Last year, Twilight fans from all over the world were given an amazing opportunity to own a piece of The Twilight Saga. Over the course of two days, hundreds of costumes, props, set pieces and accessories were auctioned off and distributed to new homes – the perfect piece of forever for any fan.
I'm pleased to say that I was one of those fans, and I don't think I've ever really talked about it. Now, with a second iteration of the Twilight Saga Prop Auction set for November 2017, I feel inspired to take a look back at the original experience.
Although Alice has a beautiful wardrobe, there were very few pieces that I needed to have. For one thing, Ashley Greene and I are generally not the same size, and it seemed like an exercise in futility to be going after costume pieces that likely wouldn't fit. Secondly, I already own most of the Alice Cullen costumes I really wanted.
I decided that if I was going to do this, I was going to go after pieces that either couldn't be found anywhere else – truly one-of-a-kind – or held some other emotional significance for me.
So what did I walk away with?
Alice Cullen's Bridesmaid Dress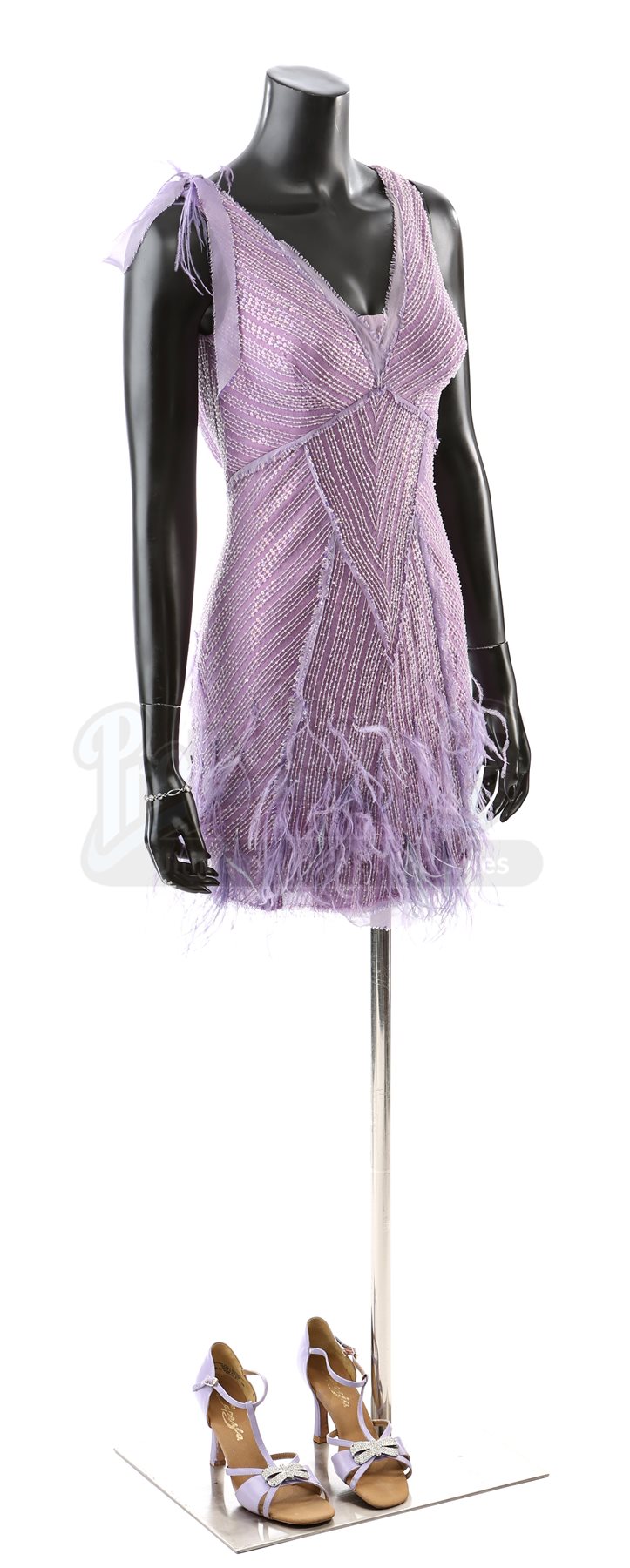 My mentality with this one: go big or go home. I'm not talented enough to make this dress and I knew I'd never find it at retail – after all, it just doesn't exist anywhere else – so this was one item I knew I physically needed. The lot is beautiful. It comes with the bridesmaid dress – a gorgeous, beaded and feathered affair – plus a pair of bedazzled dancing shoes and a set of Swarovski crystal jewelry that includes a ring, bracelet and earrings. Full lot details can be found here.
I also can't fully explain how stunning this dress actually is. The bead work is impeccable, and the addition of the feathers adds a lot of movement to the piece. I've never seen anything like it.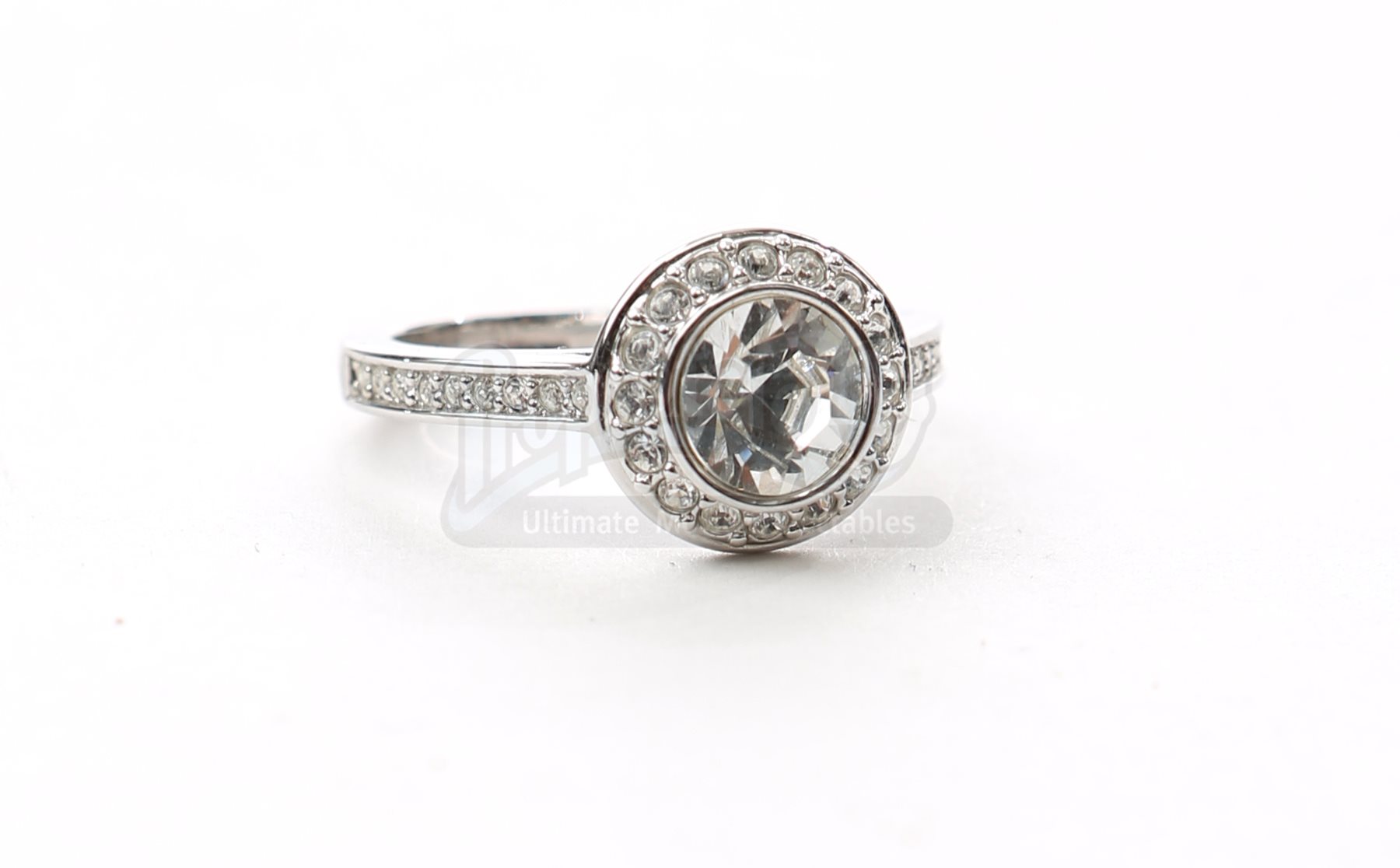 Lot condition: Excellent. This has been very, very well taken care of, and all of the jewelry pieces were individually bagged or stored in their original boxing. The shoes show sign of wear, as they were used to film a scene with Alice and Jasper dancing. It should be noted that the costume tag says Alice wore a pair of Manolo Blahnik heels in promotional photos for the wedding, which I suspect went home with Ashley Greene.
The Vee Factor: Yeah, it's great that it's beautiful and all – but can I actually wear it? The answer is yes! The shoes and jewelry are too large, but the dress fits fairly well. I'll have to get it taken in at the bust, waist and shoulders for optimal fit, but given the loose flapper style of the dress, I could probably get away with not altering it at all.
Alice Cullen's Denouement Costume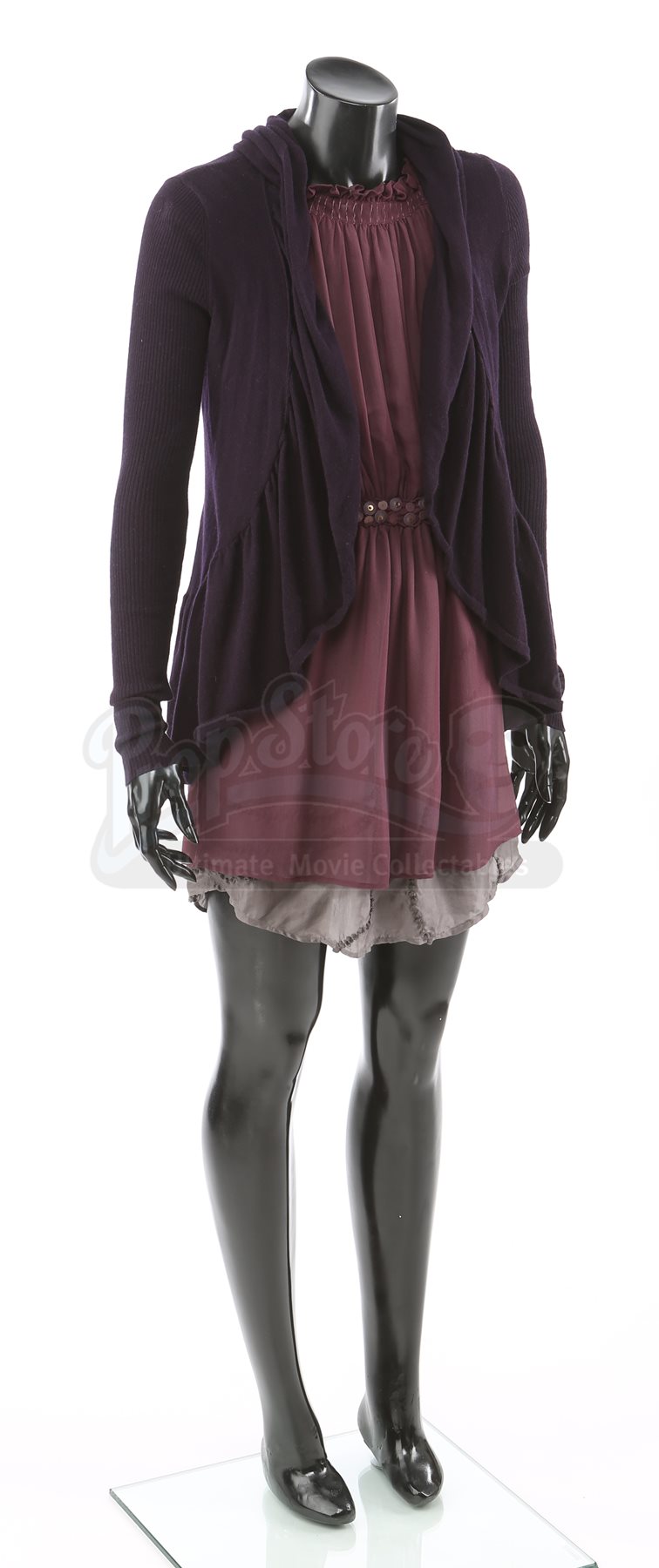 This one was really, really important to me. It seemed fitting to own the final costume we see Alice Cullen in after five films – especially one that preceded the emotional closing credits for the franchise. But I had no hope of being able to afford it.
That's when my friend Melissa stepped in.
She knew how I felt about this lot – the sentimentality behind it – and she bought it for me as a surprise. I'll never be able to properly thank her for that, because it's just such an incredible gift. So I'll continue to say what I've said all along: Thank you, Mel. I love you.
This lot is amazing. It came with Alice's dress – Saivana by Anthropologie, incorrectly labeled "Laivana" on the costume tag – and a custom-dyed Guinevere Hiking Ruffles cardigan. The costuming community had previously speculated that Alice wore a black version of the cardigan, but the auction listing confirmed that it was, in fact, dark purple. The way the fabric looks – with the original colour slightly peeking through in places – suggests that the base cardigan was a lighter purple that too closely matched the colour of the Saivana dress.
Lot condition: Excellent. The costume tag lists jewelry and a pair of flats as included in the costume, but they weren't included with this lot. To be honest, Ashley Greene and I aren't the same shoe size anyway, so I wasn't mourning the loss of them. Full listing details can be found here.
The Vee Factor: Oh, I'll be wearing this one regularly. It's about to become a staple in my work wardrobe, I think. The cardigan and the dress are both XS, so as a base size, they both fit well. I'll need to tweak the dress slightly at the collar to sit more closely to my throat.
It's worth noting that in the film, Alice actually wears this dress backwards! In promotional shots, you can actually see the zipper at her throat. This stylistic choice is somewhat confusing, as the dress has a beaded belt that ties at the back, which means you see the knotted ribbon in the front when worn this way instead of the beads.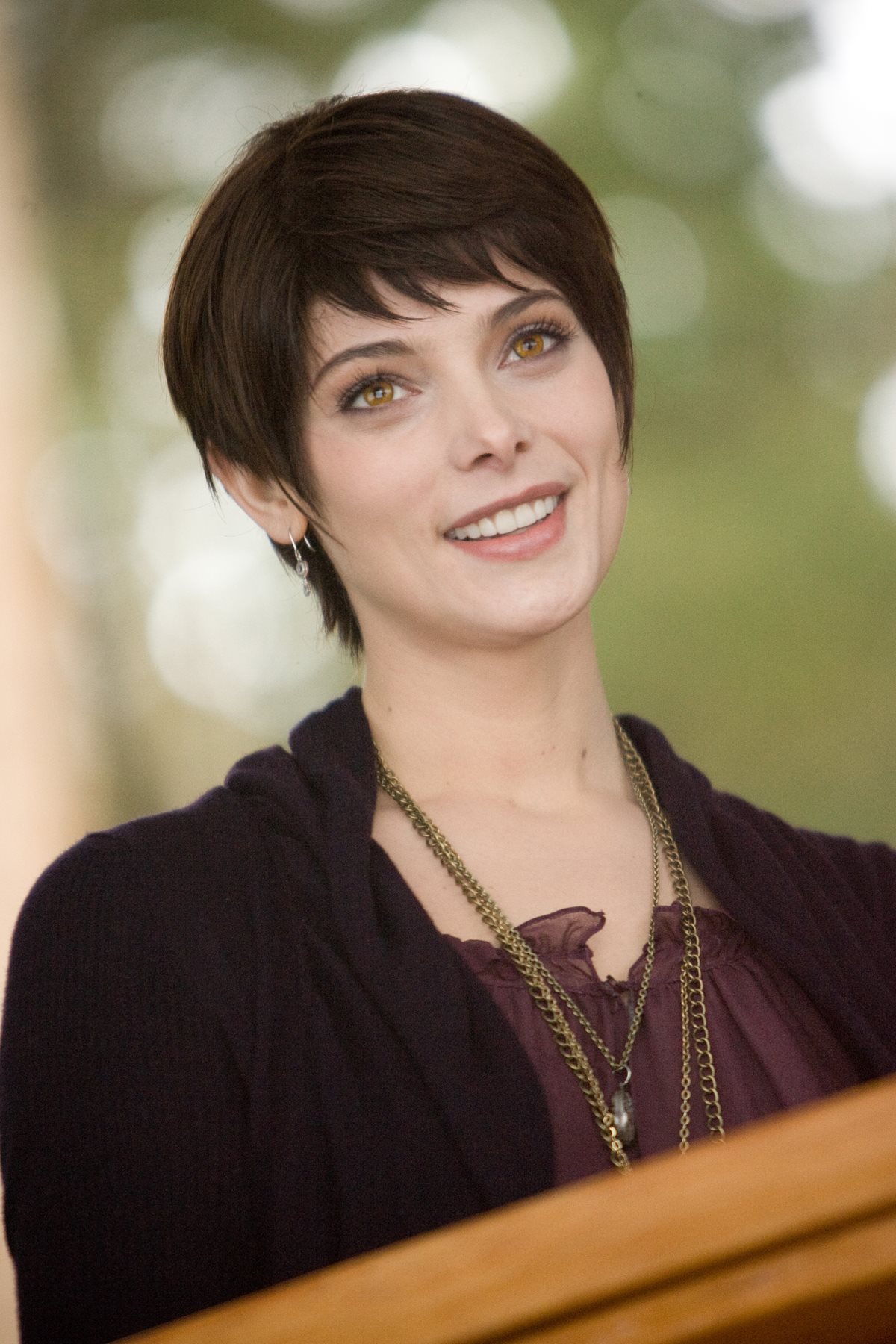 No comment on how I'll be wearing mine – I'll have to see what strikes my fancy on that particular day. 😉
Alice Cullen's Standoff Costume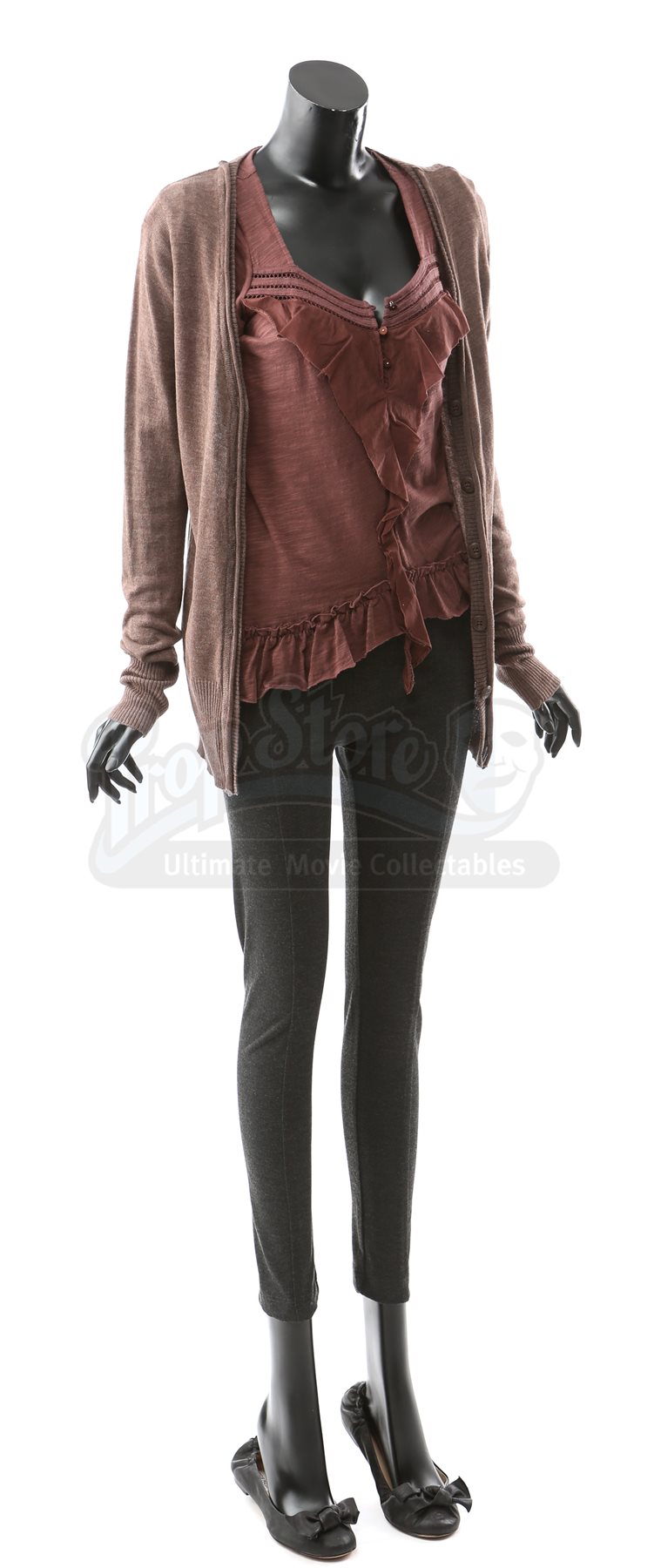 This one… was another complete and total surprise.
Let me set the scene for you.
It's 6 a.m. on the final day of Forever Twilight in Forks. I've just stumbled out of bed to get my makeup done by our amazing makeup artist, Sam. My friends Kat and Karina – up before the sun – are there to make breakfast for the Olympic Coven. They're cooking up bacon, eggs and pancakes. It's all wonderful.
Then Karina tells me she has a gift for me. To emphasize: SHE has a gift for ME after spending all this time (and effort, and money) making us a delicious meal.
She gives me two gift bags. The first is adorable: a ceramic Mickey and Minnie Mouse figurine, depicting the characters as bride and groom. I'm getting married next year. Adorable.
The second bag contained her lot from last year's auction: Alice's standoff costume, worn in Breaking Dawn Part I when the wolves descend upon the Cullens after Bella "died."
I don't think I need to tell you how stunned I was.
Karina kept insisting it was for me and I kept asking if it was for me, and Sam kept chiding me, telling me not to cry my makeup off.
I don't know what I did to deserve having such amazing people in my life, but they're here, and they're basically never allowed to leave.
Thank you, Karina. I love you.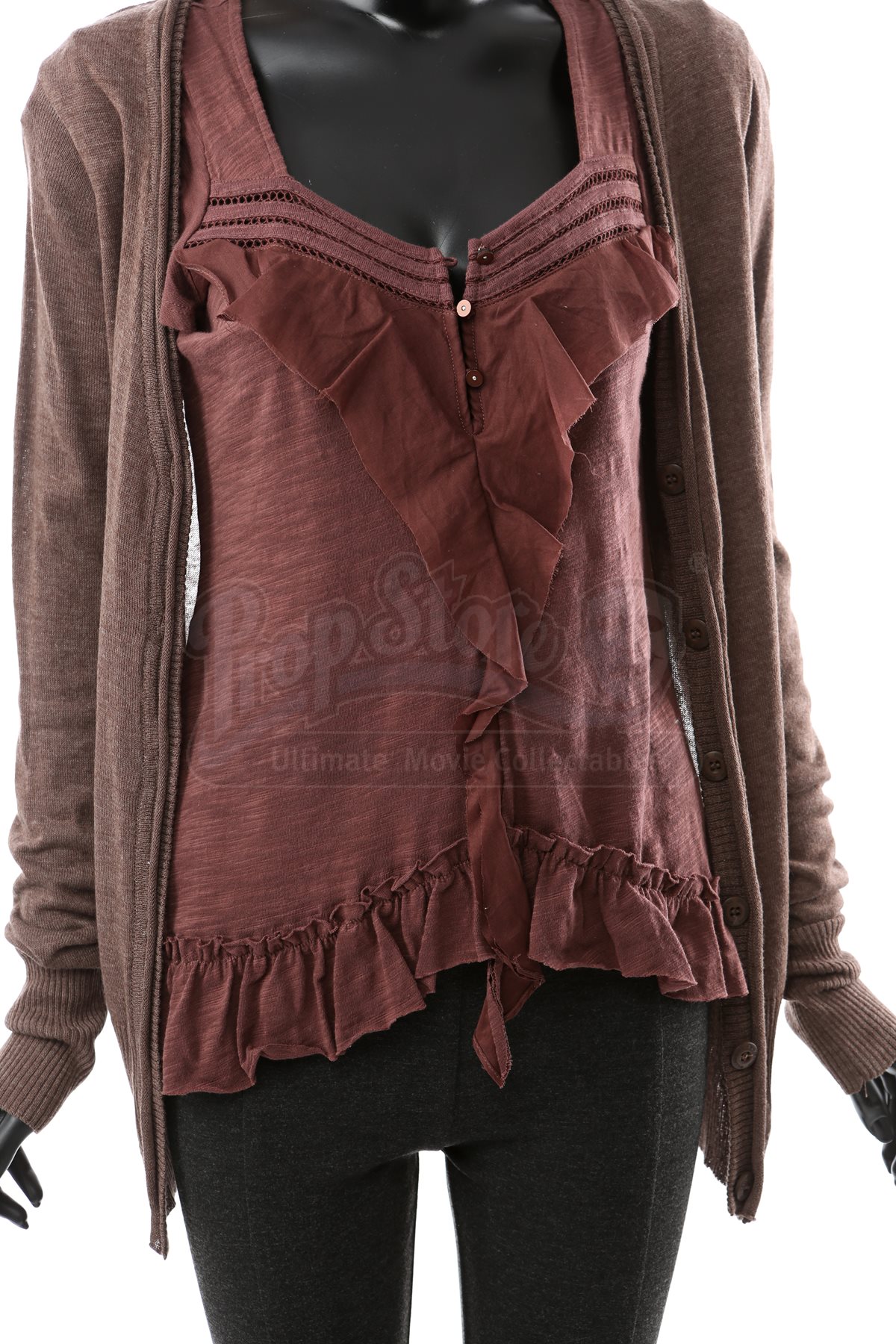 Lot condition: Excellent. This is a stunt lot, but it's been very well preserved. It's worth noting that the top Alice wears with this lot – called Structure and Sway by Deletta for Anthropologie – is shorter than the retail version of the top I purchased on eBay and was altered for a better fit on Ashley. It's paired with a brown Billabong cardigan that has asymmetrical detailing in the back, plus a pair of soft grey leggings and Kortship flats by Steve Madden.
The Vee Factor: I love this lot, and it fits so well. Overall sizing is an XS, although the arms on the Billabong cardigan are long by design and would only properly fit someone much taller. However, I like the way it looks with the fabric bunched at the wrists to shorten it. The Kortship flats are in Ashley's size – 8.5 – and are too big on me, but they're rouched in the back, which leads me to believe I might be able to shorten their overall length with a few careful stitches. I can't wait to wear this as part of my regular wardrobe!
If you couldn't tell, there's a theme to these costumes: they were all featured in Breaking Dawn. Which means I'm pleased to announce that I'll be wearing all three next year during the Breaking Dawn celebration at Forever Twilight in Forks!
So if you see me in Forks next year, keep an eye out for these pieces. Thanks to a little – well, a lot – of help from my friends, I'll be your personal walking, talking Alice Cullen Twilight costume collection. 😉
xoxo,
Alice